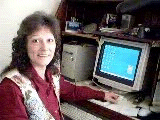 LTC Secretarial Services
LTC Secretarial Services will assist with office support to include: transcription, word processing, legal forms, medical billing, computer training, notary services. No job is too small. Mention that you saw this web site for your discount on services!
I'll be your Virtual Office Assistant for all needs!
Louise T. Conner | Owner & Operator
Danville PA. 17821-1668
Phone: (570) 275-0212 | Fax: (570) 275-1242 | E-mail
Now accepting both

by phone or fax for your security!
---
Hello! Thank you for visiting my Web site.
Information about me and the office I operate: I am a honor graduate of Northumberland County Area School of Business in the Executive Secretarial with medical and legal options curriculum. I am also a DATIA (Drug & Alcohol Testing Industry Association) Certified Professional Collector, and PA Licensed Notary. With various types of software packages and standardized equipment along with my previous training at a business school and background work experience, I have started my own home-based business. I am able to offer the same skills, quality and production that any office Secretary or Transcriptionist can but now in the comfort of my home. By doing this, I save my client/customers a great deal of time and money on their costs of overhead expenses and free up the time of their current in-office personnel. I will be your electronic or automated secretary. You'll save valuable time and money too!
My office offers all individuals or businesses contract negotiable pricing. No job is too small, and I will do my best to honor all requests for services. I maintain professionalism, confidentiality, and reliability when servicing all your needs.
Organizations that I belong to include: Danville Chamber of Commerce, PA Association of Notaries, International Executive Guild, Drug & Alcohol Testing Industry Association, Home Secretary Services Association, PA Sheriff's Association, National Association of Secretarial Services, Disabled Businesspersons Association and PA Source Net. I also have a DUNNS number (Dun & Bradstreet) for you to review my legitimacy and listing with their office..
I have, use or have a working knowledge with the following types of software: To better serve my clients/customers needs, RealPlayer and Sten-tyist software packages are used for transcription or a stand alone transcriber and headset, Eudora Pro or ICQ E-mail or FTP for quick and efficient correspondence of all types and retrieving and sending documents; Microsoft Professional Office 2000 and Small Business Edition 2000, Corel Professional Office 2000 and older versions of these software packages are used for word processing, spreadsheets, presentation designs, graphics, brochures, newletters, greeting cards, business cards, signs, etc. PAN Notary software is used for accurate record keeping of all Notary transactions. MediSoft Patient Accounting software is used for patient accounting-medical claim processing, appointment setting, reports of claims submission, patient information and treatment and much more.. I also have a working knowledge of LawTrac, Facts, QuickBooks Pro, Yamaha Station for recording and other too numerous to mention.
The equipment that I use, (not limited to) are the following: Two IBM compatible computers, Stand alone Multi-Function Fax, Stand alone transcriber, Laser and Inkjet printers, 56 k Modem, Internet access, Copier, Scanner, Digital camera, Video Camera, IBM compatible laptop fully equipped and more.
Delivery and retrieving my work but not limited to the following: I offer pickup pick-up & delivery within a 12-mile radius of Danville PA. Other means to receive work requests are as follows: E-mail, FTP and other computer related transfers, Fed-Ex, Airborne, UPS, or general USPS. For faster, more efficient receiving, and returning client/customers request of services, I rely very extensively on the computer and its capabilities. I will do whatever it takes to provide all client/customers with quality, and expert services with strict confidentiality.
Medical Billing Services | Notary Services | Drug & Alcohol Testing | Web Page Designing
Transcription | Requests or Inquiries | General Services |

Home page