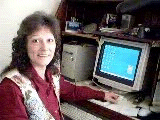 WEB PAGE DESIGNING
Building web sites that will get you noticed on the WWW!
We'll design your site or page(s) using HTML coding, and we'll use creative designs custom logos,
getting you noticed on the internet!

The options are unlimited and designed by your specifications or interests:



Animation-All types of motion graphics and cliparts
Over 250,000 Graphics
Customized Banners, Logos
Movie clips - We can create them or we can use yours!
Scanned photos - Your Personal Photos, or from our Graphic/clipart library of millions!
Art - Custom created or clipart
Backgrounds - Textures, Borders, Color, Patterns
Text - Select your font, style, colors
Sounds - Multimedia, wav, midi, mpeg, au, .vox etc.

And so much more. The list, as we said, is endless. The choices are yours, depending on your needs for advertising or just for fun. Many areas on the Web allow for free exposure of your site, so why not give us a call to create a personal page for you or your business. We'll get you noticed. Don't Delay, Call Today! Having a Web page viewable by the entire world is more affordable than you can imagine. We'll assist you in finding and uploading a free area for your site and will maintain your site with the updates that you would like to add. So give us a try, our rates are reasonable and again very affordable. Call for details!


Louise T. Conner

Owner/Operator

Danville PA. 17821-1668

Phone: (570) 275-0212 | Fax: (570) 214-9186




louiset.conner@verizon.net