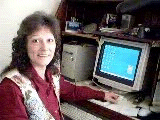 L.T.C. SECRETARIAL SERVICES
LTC Secretarial Services offers transcription, medical billing, computer training, notary services, drug & alcohol testing, web designs, and more. When making a request or inquiry, mention you saw this website for a discount on services!
For all your secretarial needs!
Louise T. Conner |Owner/Operator
Danville PA. 17821-1668
Phone:(570) 275-0212 | E-mail
Now accepting

by phone for security purposes!
Medical Billing Features
Features of electronic medical claims processing: With guaranteed accuracy ourservice will, reduce labor/overhead costs. We take all precautions for complete security, claim status information will be made within 24 hours of submission & our service saves your valuable office space. We supply all the computers, software training, forms, and reports. Claims will be entered into an EMC System within 48-hours via modem, Guaranteed!
Here is how it works: You submit your paper claims to me daily, weekly, or as desired. The claims are then keyed into the EMC system with a notation on the claims of the date they were electronically submitted. The claims, date stamped with time of electronic filling will be returned to you at the end of each week or bi-weekly.
What I will need from you: Your office information, copies of your Super-Bills and patient information.