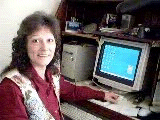 LTC Secretarial Services
LTC Secretarial Services offers notary stamp and seals to: depositions, legal forms, affidavits, acknowledgments, automobile registration renewals, license applications, insurance claims statements, divorce and bankruptcy forms, collection assistance and more.
For All Your Secretarial Needs!
Louise T. Conner--Owner/Operator
Danville, PA 17821-1668
Phone: (570) 275-0212 | Fax: (570) 275-1242 | E-mail
Now accepting both

by phone or fax only for security purposes!
As a licensed Pennsylvania Notary, I am able to offer the following services:

Licensing
Motor Vehicle transfers
Affidavits
Name and Address changes
Certified copies
Depositions
Birth Certificate corrections
Wills
Criminal History checks
Attorney Certificates Notarized
State applications notarized
Acknowledgments

Bankruptcy & Divorce documents prepared, Collection Assistance and Legal Transcription.
Save on your attorney fees - All completed in proper format!
Other services available as requested!
General services | Medical billing | Credentials & Equipment | Request for services order form |

Home page