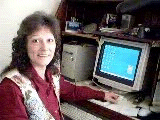 LTC Secretarial Services
LTC Secretarial Services offers the following: résumé packages, transcription, medical billing, notary services, word processing off all types, web page designing and much more. All services are offered to individual and businesses. I'll be your office support or electronic secretary.
For all your secretarial needs!
Louise T. Conner--Owner/Operator
Danville PA. 17821-1668
Phone: (570) 275-0212 | E-mail
Now accepting both

by phone or fax only for security purposes!
Résumé Packages include the following:
5 copies of a created document that you have provided a rough draft of your skills, equipment used, education and work history on quality bonded paper-- Laser printed.
One graphic is included with a camera - ready graphic to add a design or your area of expertise to create a professional appearance. Professional Statement or Cover letter
Matching envelopes, and a Copy on a 3 1/4" floppy disk for updates. I keep a copy on file. Return for your updates and changes with less expense.
Your résumé will be given to you in a professional folder ready for your presentation.
Word Processing of all types to include:
Letters
Reports
Manuscripts
Memos
Forms
Mail merges
Other services are available! Call or E-mail your inquiries using the request and inquiry link below.
Contracts are available and prices are negotiable!
I guarantee professionalism, confidentiality and reliability!
Medical Billing | Notary Services | Web Designing | Credentials & Equipment | Request or Inquiries |