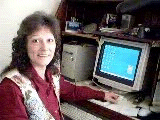 LTC Secretarial Services
LTC Secretarial Services offers transcription services to include: Medical transcription, legal transcription, or general transcription. If you do not like typing and can record your documents, I will transcribe, proofread, spell check, and format them before their return to you. All you'll do is talk into a recorder and send me the file. Save your valuable time and money and let LTC 's office do the work for you!
FOR ALL YOUR SECRETARIAL NEEDS!
Louise T. Conner | Owner & Operator
Danville PA. 17821-1668
Phone: (570) 275-0212 | E-mail

Now accepting both

by phone or fax only for security purposes!
General Transcription

Double spaced
Single spaced
Your spacing specifications
Charged by:
Lines
Pages
Characters
Legal Transcription Documents to include but not limited to:
Contracts
Insurance Claim Statements
Depositions
Court reports
Your recorded dictation
Proposals
Legal Letters
Legal Forms
Memos
Medical Transcription Documents to include but not limited to:
History and Physical Reports
Office consultations and Clinic Notes
Operative and Post Operative Reports
Discharge Summaries
Radiological Reports
Pathology reports
Other medical transcription not listed above is available!
Contract prices are available. Call or E-mail your inquiries!
Medical billing | Notary services | Web designing | Requests or inquiries | Credentials & Equipment |

Home page