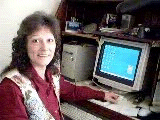 L.T.C. SECRETARIAL SERVICES
LTC Secretarial Services offers transcription, medical billing, computer training, notary services, drug & alcohol testing, web designs, and more. When making a request or inquiry, mention you saw this website for a discount on services!
For all your secretarial needs!
Louise T. Conner |Owner/Operator
Danville PA. 17821-1668
Phone:(570) 275-0212 | E-mail
Now accepting

by phone or fax for security purposes!
Medical Claims Billing also has a variety of other services that can be included.
Below you will find other areas of interest when choosing your processing package.
Electronic Billing
Fee Analysis
Paper claims
Secondary Carrier Billing
Payment Posting
Insurance claim follow-up
Patient Billing
Patient Collection
Aging Reports
Management Reports
Appointment Setting
Verification Reports
Audit/Edit Reports
Correction, retransmission
Reprinting

Join the modern trends of Electronic Claims Processing of your medical Superbills. Considersending my office a test batch to see the results for yourself. You'll be glad you did!
Enter the links to view other areas of interest!