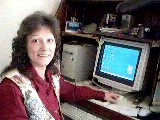 L.T.C. SECRETARIAL SERVICES
LTC Secretarial Services offers clerical assistance as your virtual office assistant. Services specializing in all types of word processing, data entry, and customized resume packages and webpage designs. I also am experienced with medical transcription, medical billing, computer training. As a Drug and Alcohol Certified Professional Collector, I can help your business or any individual with drug and alcohol testing services, DOT, Non-DOT, onsite, instant and CDL drug & alcohol testing. When making a request or inquiry, mention you saw this website for a discount on services!
For all your secretarial needs!
Louise T. Conner |Owner/Operator
Danville PA. 17821-1668
Phone:(570) 275-0212 |E-mail
Transcription | Medical Billing |Computer Training | Specializing in Word Processing & Customized Resume Packages
Web Designing | Resume & Credentials | Requests or Inquires
DATIA Certified Professional Collector for Drug & Alcohol Testing
Click on any link or image below for values on other services!
Frank Jr's Roofing & General Repair Contractor