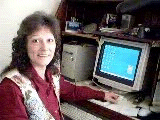 L.T.C. SECRETARIAL SERVICES
LTC Secretarial Services offers transcription, medical billing, computer training, notary services, drug & alcohol testing, web designs, and more. When making a request or inquiry, mention you saw this website for a discount on services!
For all your secretarial needs!
Louise T. Conner |Owner/Operator
Danville PA. 17821-1668
Phone:(570) 275-0212 | Fax:(570) 275-1242 | E-mail
Now accepting

by phone or fax for security purposes!
How Electronic Medical Claims Processing Works and
Examples of Claim Costs.
You submit your paper claims to me daily, weekly, or as desired. The claims are then keyed into the EMC system and a notation is place on the claims the date they were electronically transmitted. The claims, date-stamped with time of electronic filing will be returned to you at the end of each week or bi-weekly.
What I will need from you: Copies of your Superbills and Patient information.
Medical Billing - Examples of Costs - Per Claim

Quantity
Per Month
Each
1 - 99
$5.00
100 - 199
$4.50
200 - 299
$4.00
300 +
$3.00
Patient Statement Invoice
Per Claim
Total
50 Statements @
$3.00
$150.00
One Time Set-up fee
$300.00
Monthly Report Fee
$25.00
Paper claims are generally paid in 30-90 days
Electronic claims are generally paid in 7-14 days
Read some of the affects of :

Paper
vs.
Electronic
Rejection rate:
35%
2%
Preparation:
15 min.+/-
2 min. +/-
Cost per claim:
$ 8 - $10
$3 - $5
Advisement of Problems:
After rejection
Immediate
Receipt of Payments:
30 - 90 +
1-2 weeks

Consider sending my office a test batch. See for yourself the changes electronic submission can speed your waiting time for payment on claims
Medicare and many other major insurance companies pay electronic claims before paying the paper claims.
Transcription Services | Medical Billing | Computer Training | Word Processing | Home Page
Web Designing | Notary Service | Credentials & Equipment | Requests or Inquires | Drug & Alcohol Tests